On February 10th we launched Whaka ora Reotahi – A Native Habitat Restoration Project.
The project provides the opportunity to make a concerted effort to remove large areas of environmental weeds that are choking and smothering the Reotahi maunga.
Whaka ora Reotahi is a collaboration between Weed Action and Aki Tai Here a conservation team of hapu members from Ngāti Korora/Te Waiariki hapu from Pataua.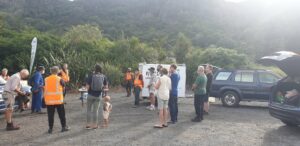 Funding from the Lottery Environment and Whangarei District Council has enabled Aki Tai Here and Weed Action to develop a weed management plan for the reserve with a long term goal of full native habitat restoration.
Guardians of Reotahi such as tangata whenua, conservationists and the local community have observed over time how invasive weeds such as elaeagnus, queen of the night and ginger have overtaken this remarkable landscape. There is enormous gratitude and acknowledgement of community stalwarts like Mark Lawrence and Frank Bates who have done what they can to stem the tide.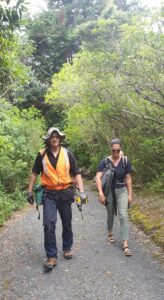 A Weed Action group of volunteers meets monthly and this ongoing voluntary support will be needed into the future. Please come and join us and be part of this community effort to protect this beautiful maunga.