February 2023 – Muck in for moth plant month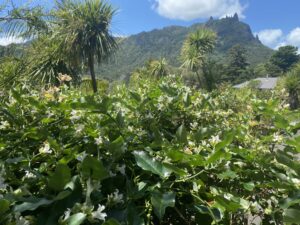 Moth plant flowering McLeod Bay January 2023
✊ Muck in for moth plant month! 🌿
This is a ecological emergency so mount up 💪 and muck in 🥾 for moth plant month. Earn your medal, get some mates and some metsulfuron and go murder some moth plant.
👹 Moth plant is macabre! It's looks alien, it's milk is poisonous to monarchs 🦋 and it's our #1 public enemy. It's actually designed very well to be a menace, inflicting as much damage as possible.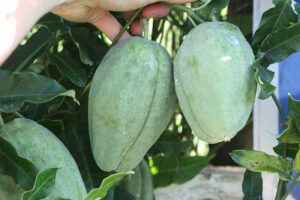 🌳 Seriously, it can grow in any frost-free area, smothering and taking over native vegetation with ease. Each pod contains up to 1000 seeds that can disperse over 30km via wind. The seeds can also lay dormant for 5 years, so go check places you've previously controlled.
🪓 Now is an ideal time to deal to this pesky pest plant, before it fruits/pods/seed it's small white flowers 🌸 are easy to spot. Every plant you remove could stop another 1000 from growing ‼️
➡️ Check out our website for control methods: https://weedaction.org.nz/moth-plant/
Please get in touch if you require assistance info@weedaction.org.nz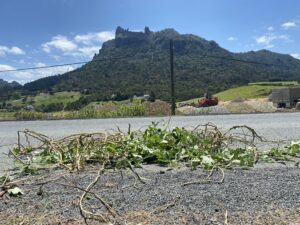 How do I control it?

Additional safety note: Sap poisonous, causes dermatitis.  Protect skin against contact with sap.

Dig and pull out seedlings/small vines. Roots of larger plants should be cut off at least 5cm underground if can't be pulled whole. Hang roots up off the ground, leave cut vines up in trees to die. Collect pods and dispose of to landfill, burn or bury deeply.
Cut stump application: Cut at ground level and immediately treat cut stems with (20ml Banvine® /1L water), or (100ml Tordon Brushkiller® /1L water), or Picloram gel. If using Picloram gel, make the cut higher and paint approx. 20cm of the stem below the cut, as well a scut surface. Leave remaining cut material on site to rot down.
Spray in summer (5g metsulfuron + 10mls penetrant /10 litres water), or (120ml Tordon Brushkiller® /10L water), or (120ml Banvine® /10L water). Summer-Autumn best. Clear off desirable trees before spraying to reduce bykill. Don't replant sprayed sites for 6 months/until seedlings appear naturally.

Remove and dispose of pods first to minimise seeding. Follow up regularly.

CAUTION: when using any herbicide or pesticide PLEASE READ THE LABEL THOROUGHLY to ensure that all instructions and safety requirements are followed.

Click here for more information on the herbicides referenced in the control methods, or here for more information on the suggested techniques.