Weed and now Planting Action!
To ensure we maintain our landscape approach to battling invasive weeds – and in this case tree privet – Weed Action Whangarei Heads seeks funding where possible to eliminate seed sources that threaten to accelerate the rate of spread. We also encourage & equip our residents to take action on their own land in order to protect the four areas of ecological significance (Bream Head, Mt Manaia, Reotahi & Kauri Mountain).
Last year we recognised such a satellite population on a council reserve next to the one-way bridge on Pataua South Rd and the Whangarei District Council helped us with our battle last year by covering the costs of an arborist with a very powerful chipper! 'A stitch in time saves nine' as they say and we will never know the true value of the funds & sometimes sweat this assistance saved our community. We're grateful to have their support. Plus with professional help it gives us great pleasure to see weeds turned into chip – a valuable resource for a change.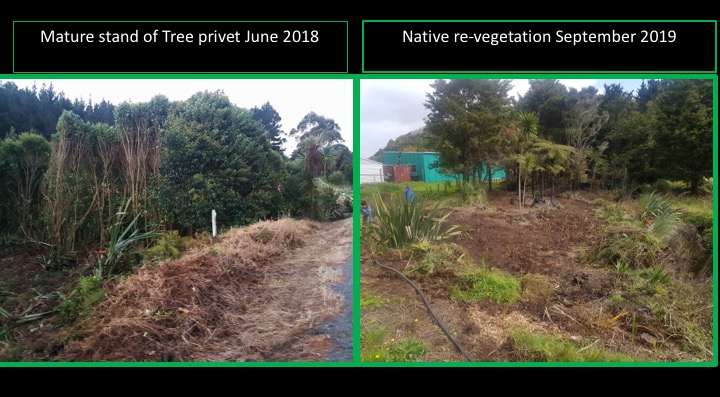 Weed Action coordinated a second round of planting in September 2019 to replace weeds with native plants. We are hopeful that these trees will eventually create a canopy in the future to slow down the rate of re-invasion from the seed bank that remains in the soil. The initial knock-down of privet has been done but until a canopy is formed by the newly planted trees, we still have a few rounds of weed control as seedlings germinate.
Weed Action gives a special thanks to Pereri and Te Ratahi Mahanga for blessing the event and also guiding Weed Action through the protocols of working on a tapu site to local hapu. We've been enlightened in many ways with our chats with Pereri recently, and we look forward to teaming up more often.
Another thanks to Papakarahi Nursery for providing the native plants. It's so valuable to have locally sourced seed for re-vegetation and we also understand & appreciate the commitment of volunteers to ensure this service is provided for the community. Thank you.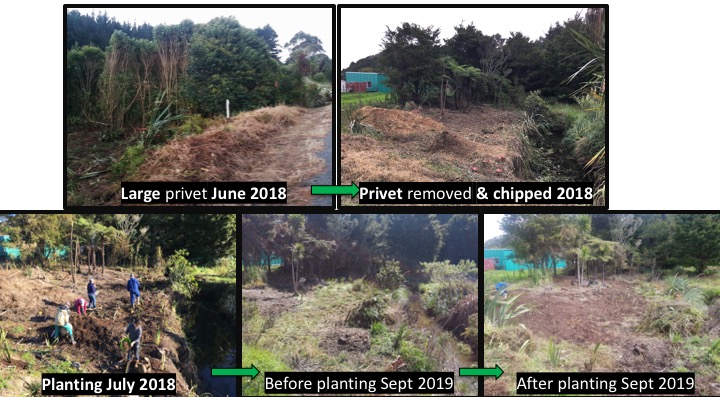 We are always looking for new faces to compliment the pool of good sorts who volunteer on a regular basis and with every hand put up at the end of a rolled up sleeve brings security to the momentum we're building. The Waitangata Stream Reserve is relatively small and many hands make light work to ease the load for all. If you're interested in helping out for an hour or two every 2 months please make contact with our Coordinator – Kelly Maxwell.
Email: info@weedaction.org.nz or Phone: 021 0233 2005