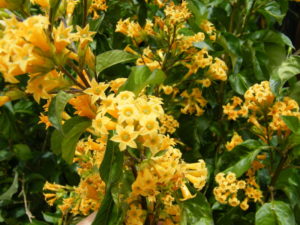 Additional safety note: Cestrum species are extremely toxic to farm animals and toxic to humans. Wear gloves when handling.
How to Control:
Pull out small plants. Leave to mulch.

Cut & stump applicatiom: Cut and treat stump immediately with (100ml Tordon Brushkiller®/1L water),  or (100ml triclopyr /1L water), or

Vigilant® gel.

Spray spring – summer with (60mls triclopyr +10mls penetrant/10L water)
Similar Species:
Hard to distinguish from many native species (apart from foetid smell), best controlled when in flower. Wear gloves when handling, exclude stock at all times. Replant bared sites to minimise regrowth. Check for seedlings 6-monthly.
Caution: when using any herbicide or pesticide PLEASE READ THE LABEL THOROUGHLY to ensure that all instructions and safety requirements are followed.