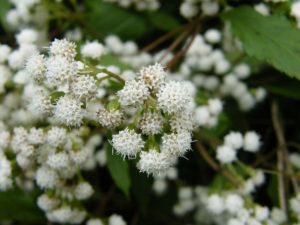 How to Control:
Introduce Entyloma fungus & gall-fly wherever possible. The fungus may take several years to become dominant.

Dig out or hand pull small infestations. All roots need to be removed as even small pieces of root regrow. Roots can be hung up off ground to die




Weed wipe, all year round (300ml glyphosate/1L water) or (2g metsulfuron/1L water).

Spray (

lightly,

not to run off) Aug-Jan when in flower but before seeds present (200ml glyphosate+20ml penetrant/10L water) or (3g metsulfuron+10ml penetrant/10L water). Avoid water contamination.

Spray aquatic sites (200ml glyphosate/10L water).  Use glyphosate formulation approved for use over water.
Pulled plants resprout if roots (occasionally even stems) touch damp soil and seed bank reinfests bared ground. There is a biological control, the Entyloma fungus, available – check with your regional council to see if the biological control agents are suitable for your site.
Caution: when using any herbicide or pesticide PLEASE READ THE LABEL THOROUGHLY to ensure that all instructions and safety requirements are followed.