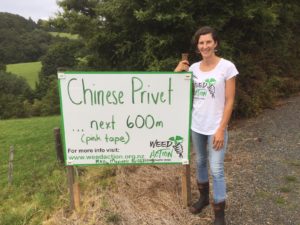 Introducing Kelly!
November marks the start of a new chapter at Weed Action with a new Project Coordinator taking the helm – Kelly Maxwell. Jo Barr who has been the goddess of strategic weed warfare at the Heads for 3 years, has taken up a position as Biosecurity Specialist at Northland Regional Council. A large part of her new position is dedicated to taking the successful Weed Action brand to other community-led weed groups in Northland. What a compliment to years of dedication by Jo, the committee, and the many volunteers that have made the WA model as successful as it is! Jo will remain a valuable source of support and knowledge for Weed Action as I learn the ropes as the new coordinator.
Background
I have been a Parua Bay resident of 2.5 years and have been involved in conservation on some level in New Zealand since 2010 when I started studying Environmental Management and Biology. Over those 8 years I have worked on various interesting projects around NZ including: conducting pest control in a fenced sanctuary, mist-netted kokako for relocation, a reptile survey on an off-shore island, propagated and planted natives, conducted recreational fishing surveys, and was part of a successful (invasive) butterfly eradication. I have always been passionate about the outdoors and I'm the most fulfilled being part of a team protecting the unique eco-systems of NZ. In 2016, I was introduced to Weed Action when I called Jo to come and have a look at the weeds on my property and to see if I could score some free herbicide! The work I saw Weed Action doing around the Heads made a real impression and the objectives of the group, particularly removing barriers to action, left me very inspired to tackle the climbing asparagus that was starting to invade a corner of my property.
Going Forward
I intend to carry on the good work of Weed Action in my new role by supporting our community to remove barriers to action and encouraging residents to have 'weed vision'. I look forward to continuing to strengthen relationships throughout the community, getting out there and meeting some new faces, and I particularly look forward to swapping some 'pearls of wisdom' with our Primary School children through our educational visits.
If you're new to the area and/or you'd like some support with tackling weeds on your own property or community reserve, please get in touch through
email: info@weedaction.org.nz
our Facebook page: Weed Action Whangarei Heads
or call me directly: Kelly Maxwell – 021 02332005 for free advice, tools, equipment and herbicide and help join the fight against invasive weeds at Whangarei Heads.