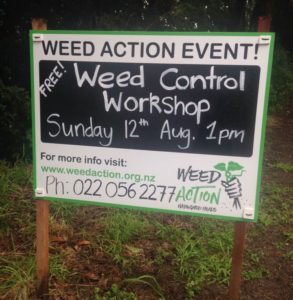 Are you knee deep in weedy species and not sure of the best tactics to beat the weeds in your neighbourhood?  Come along to our weedy workshop focused on giving Kiwi Link landowners the advice and info (and herbicide!) needed to prioritise and tackle weeds as effectively as possible.
Thanks to Kiwi Coast and the Kiwi Link project we are spreading the weedy word further afield this time, to landowners and Landcare groups in the Owhiwa Rd/Mt Tiger/Whareoa/Pataua North area.
The  workshop will cover:
– 
The Art of War – know your enemy
:  Identifying and understanding your local weeds
– 
The importance of prioritising control and having a plan
– 
Choosing the right approach
: Control methods – the theory
– 
Choosing the right tool for the job
: Deciphering herbicide names and active ingredients 
– 
Control demonstrations:
The theory put into practice!
Following the workshop there will also be some herbicide available for landowners in the Kiwilink and Whangeri Heads area –  tailored specifically for the weed species you are battling. 
Where:
Kerry Martin's Shed, William's Forest, 92-94 Owhiwa Road (driveway will be flagged).
 
When:
Sunday 12th August
1pm – 4pm
Afternoon tea provided
 
Email or call to register:
Ngaire Tyson
Kiwi Coast Coordinator
When you register, If you could also answer the following questions prior to attendance, it will enable us to tailor the info and demonstrations,  and to prepare the right herbicide for allocating:
 
– What are the main weed species you have on your property? Feel free to say if you are not yet confident identifying weeds!
– Which weeds do you currently target?
– What type of weed control methods do you use currently?
 
Look forward to seeing you there!