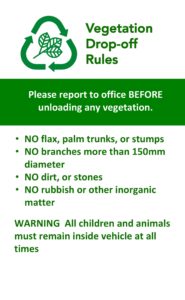 Need to get rid of some green waste responsibly? We've got you covered!
Spring means people get out and into their gardens. In the past that has meant that we start to see more dumping of green waste down roadside banks and into reserves. This dumping is unsightly, and worse than that, often contains the types of weed species that grow from fragments such as 
jasmine
,
tradescantia
,
morning glory
,
climbing asparagus
,
ivy, cape ivy
,
moth plant
,
japanese honeysuckle
,
kikuyu,
madeira vine/mignonette vine
,
smilax
, spreading some of our worst weeds around the Heads. Until now we didn't have an easy, local option for disposing of green waste that can't be composted onsite. The good news is that the Whangarei District Council has recognised the great work being done in this community to tackle weed problems and has agreed to trial a green waste facility to enable local people to dispose of green waste responsibly. This trial is being run with the support of Whangarei Heads Enterprises, who have agreed to host the bin and manage its use in partnership with Weed Action. The facility is being trialled for 6 months and will run the same way the green waste disposal at Re-sort in town, with a cost for disposal of $22.50 per 1m3 of green waste. If the trial is successful in the future, this site will become the site for our weed amnesty events, where Weed Action seeks funding to cover the cost so that invasive weeds can be disposed of for free, or heavily subsidised.
Quick answers about the trial:
Where is the bin located:
– At Whangarei Heads Enterprises – 65 Pataua South Rd.
– The bin is on site now and ready to receive green waste. 
The yard is open Monday to Friday 7.30am – 4.00pm, and Saturday 8.00am – 1.00pm.
Their phone number is: 436 5638.
How much does it cost to drop off vegetation/green waste?
– $22.50 per 1m3 (rather than 'by trailer load'). Payment method eftpos or cash.
If the trial is successful, in the future Weed Action hopes to be able to offer 'weed amnesty periods' where invasive weeds can deposited free of charge or at a reduced rate as we did earlier this year.
What can't go in the bin: (see photo)
– NO flax, palm trunks or stumps.
– NO branched more than a diameter of 150mm.
– NO rubbish or other inorganic waste.
What happens to the green waste that's collected?
– It is transferred to a commercial composting facility, located at Purewa Landfill.