While New Zealand remains under Alert Level 3 restrictions for Covid-19, we are adapting our services to ensure public safety is of the highest priority. For services that usually would require close contact, such as the distribution of herbicide and equipment for weed control, we have adjusted our process so we can eliminate physical distance whilst still providing the same high quality of advice and support. Below is the adjusted process should you require resources: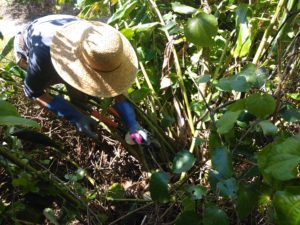 Contact our Coordinator Kelly Maxwell on:                021 0233 2005 or (09) 946 0535, from there she will ask you a few questions regarding your weed control goals. Considerations for recommending methods and herbicides vary from situation to situation, but advice is always given to achieve effective kills whilst minimising negative impacts to self and environment.
She will then provide you by email any labels for herbicide or additives, mixing rates and an allocation form we would usually ask you to sign. Under Level 3 restrictions, we will accept a reply email stating that you have read & understood the form and agree to follow the label instructions thoroughly. We will also accept signed hard copies if you wish to print it out.
Resources (herbicide and equipment) will then be delivered to a prior agreed & secure location and must be collected within 10 minutes of delivery. Please do not ask Weed Action to deliver herbicides to your letterbox if you are not going to be home. Kelly will text your phone when the delivery has been made.
Delivery time options are Thursday's between 10am – 11am and Sunday's between 10am – 11am. You are also welcome to pick up from our Community Store at the McLeod Bay Hall on Stuart Rd.
Contact less deliveries can be made using the above protocols or maintaining a physical distance of at least 2m.
Kelly is available for consultation if required via phone or email Mon-Fri during normal working hours. The Weed Action website has more information should you require it; try the page 'The Weeds' for more invaders you may not have been aware of!
Tools and protective gear are also available under Level 3 restrictions.